SnowLion Tours offers a FREE tour to Tibet for 6 solo travelers from around the World.
UPD OCT 5th: SIX LUCKY WINNERS ARE:
#14 Stas
#25 Darya
#30 Christina
#40 Alyona
#53 Sandy
#59 Ksenia
It is a unique opportunity to travel to Tibet FOR FREE!
Join our #GiveAway to see the Land of Snows.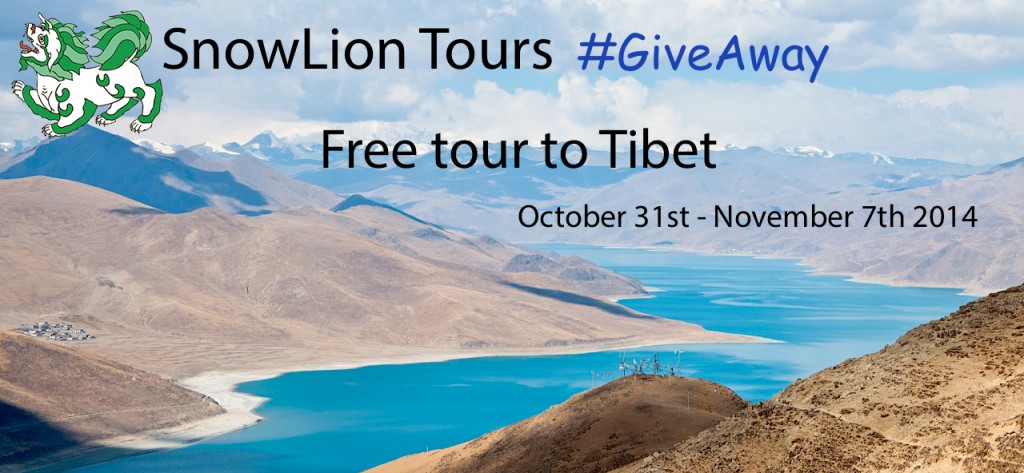 There are many people who dream of going to Tibet, but their funds are limited or they don't have travel mates to make their trips happen. By running this #GiveAway Snow Lion Tours offers a chance to go to Tibet free of costs. At the same time this is a special way for us to thank all of those who support us, as well as all our customers who choose SnowLion Tours as the tour operator in their Tibet journeys!
This itinerary we have arranged is free of cost:
October 31st: arrive in Chengdu.
Free day in Chengdu.
November 1st: Fly from Chengdu to Lhasa
Welcome to Lhasa! Transfer to your hotel and get settled.
November 2nd: Lhasa 
Visit Drepung, one of the three most famous monasteries in Lhasa. Drepung is located just outside Lhasa on Gambo Utse Mountain. Once home to as many as 10,000 monks, the enormous monastic complex is the site of many prayer halls, dormitories, and temples. Just below the monastery is the Nechung temple, the former home of the state oracle. Afterwards, visit Sera monastery, where you can watch monks debate in the courtyard. If you enjoy hiking, walk the hour-long circumambulation path around the monastery complex.
November 3nd: Lhasa
In the morning, visit the Potala Palace, the greatest monumental structure in all of Tibet. The Potala is 13 stories high and holds countless treasures in its many rooms. Built in 637 AD, the Potala has been home to the Dalai Lama lineage for more than a thousand years. Also visit the Jokhang Temple, the holiest temple in all of Tibet. From the rooftop you will see pilgrims from all over Tibet prostrating in front to the Jowo Buddha statue inside the monastery. Afterwards, walk through the Barkhor, a famous shopping street filled with goods and souvenirs from Tibet, Nepal, and India. Spend some time drinking sweet tea in a traditional tea house located on a rooftop overlooking the bustling Barkhor.
November 4th: Lhasa
Visit the Norbulingka, the summer palace of the Dalai Lama. Explore the grounds, which include gardens, fountains, and a small zoo. Afterwards, visit Ramoche, a small monastery located in the city center. If time allows, explore the alleys of the Tibetan quarter and visit traditional workshops and handicraft stores.
November 5th: Lhasa – Drak Yerpa meditation caves – Ganden monastery – Lhasa
Drive to Drak Yerpa – the hermitage about 30km north of Lhasa. It is one of the holiest cave retreats in central Tibet. Carved out of the side of a mountain, it is very peaceful and beautiful here. The drive passes through a small village and you can explore the many caves at this site. You might see some pilgrims meditating in the caves! Afterwards, drive to Ganden monastery, which is one of the three most important monasteries in Lhasa (along with Sera and Drepung). Ganden sits high on a mountain ridge. Explore the monastery prayer halls, then hike around the ruins on the backside of the mountain and do a kora (circumambulation) around the monastery — it's a short hike that offers great views over a vast valley. If you're up for it, do the longer kora, and climb way on top of a mountain ridge and fly some prayer flags.
November 6th: Lhasa – Yamdrok lake – Lhasa
In the morning drive to the holy Yamdrok lake. Along the way cross over the Kamba la (4794m) pass which boasts spectacular views. After Kamba la, arrive at Yamdrok Lake, a holy turquoise-colored lake with stunning scenery. Come back to Lhasa in the afternoon. Free evening for restaurants, Tibetan tea houses and shopping.
November 7th: Depart Lhasa.
Say goodbye to Tibet!
SnowLion Tours offers for free:
All necessary Tibet Travel Permits
Lhasa airport pick up and drop off
Daily service of a Tibetan English speaking guide
Dorm accommodation in Chengdu on October 31st
Double shared accommodation in a Tibetan owned guest house in the center of Lhasa
All breakfasts in Tibet
Car with a Tibetan driver for a day trip to Sera and Drepung monasteries
Car with a Tibetan driver for a day trip to Drak Yerpa meditation caves and Ganden monastery
Car with a Tibetan driver for a day trip to Yamdrok lake
 You only need to pay for:
Chinese tourist visa (category L)
Airfare from your home to Chengdu and back
Airfare Chengdu-Lhasa-Chengdu (540 USD )
Your food (lunch and dinner – approx. 100 USD per person for the whole trip)
Entrance tickets (approx. 100-120 USD per person for the whole trip)
Taxi inside Lhasa (optional)
ALL YOU NEED TO DO TO PARTICIPATE:
Share this link on your Facebook, Twitter, Pinterest, GooglePlus, Instagramm, Blog or any other social network account*
Copy

your link

and post it in the comments to this page along with

your name

,

e-mail address

,

citizenship

,

sex

, and

age

.
DONE!
Requirements for participants:
Availability from October 31st – November 7th.
Proficiency in English (tour will be conducted completely in English).
Does not hold a Chinese passport or citizenship.
We will randomly pick 6 winners on October 4th 2014 and post their names on our website and on SnowLion Tours Facebook page.
* SnowLion Tours will be checking participants' social network profiles before approving their comments. If your profile seems suspicious, contains spam or too many random reposts, we won't be approving it. Your post have to be open for public to participate in this #GiveAway. SnowLion Tours has rights to check your social network profile with this link posted in it any time after you submit your comment. If we don't see our link in your profile, we have rights to remove your comment from this #GiveAway. 
One person can submit  only once using his/her real name (same as in the passport). 
UPDATE: We are not approving comments which don't match the requirements written above. 
Please feel free to email any questions or concerns to info@snowliontours.com
GOOD LUCK!
SnowLion Tours Team